Our team combines art, technology, and compelling content to drive engagement.  We aim to create loyal followers above one-time customers.   
From development to deployment, the team at KITB can develop original content to turn visitors into loyal followers.
Digital Illustration
High quality digital illustration and graphic design services.
Brand Identity
Logo design concepts and other Brand collateral that can put you on par with national brands.
Graphic Design
Eye catching layouts for posters, club flyers, billboards, print advertisements, and more.
Web Design
Landing pages, blog layouts, and full e-commerce web solutions to keep you one swipe away.  
Search Engine Optimization
Strategic SEO can ensure your content stays visible and reaches your target organically.  
.
Content Managemnt
Our team handles blog writing, researching, sourcing, formatting, and publishing to your site.
Audio Production
High quality digital audio recording for video, and music production.
Video Production
Compelling original video content that viewers want to engage with.  
Photography
Develop platforms that drive online traffic, add deeper dimensions to customer engagement.   
Kid In The Background takes a holistic approach, striving to understand your goals, and the motivations of your followers.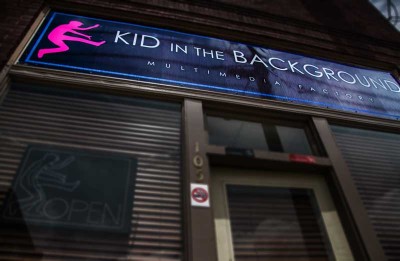 The team at Kid In The Background, Inc. are artists.  As artists we've dedicated our lives to telling compelling stories thru a variety of media.  We apply this experience develop content that is visible thru any channel, and impacts every visitor.
Let's Get To Work

Hit Us Up!
Kid In The Background is ready to learn more about your project.  Drop us a line, and someone from our sales team will be in touch with you ASAP.